---
Start a complete process of selling your services - from the presentation of the general offer, through the selection of variants to the signing of the contract and the execution order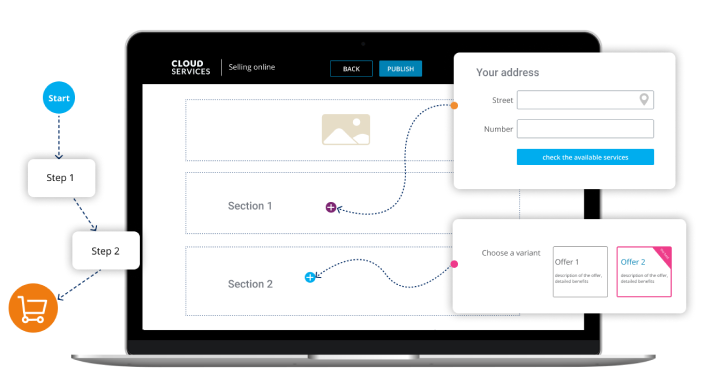 Our solution
---
Improve the sale of subscription and one-time paid services. Use easy-to-use Cloud Services tools
Create your own sales paths, test and optimize to increase the effectiveness of your online channel.
The tool allows you to build multi-step paths to fit your target group and improve conversion. You have full control over the sequence of steps, layout of content and form sections. Enable the offer configurator to present different service variants.
---
Using the wizard is simple and intuitive
Our tool requires no technical knowledge and programming support.
Thanks to this, each member of your team can modify and launch further sales processes on their own at any time. The system generates forms, the appearance of which fully corresponds to the visual identity of your website, making customers feel that they are an integral part of it.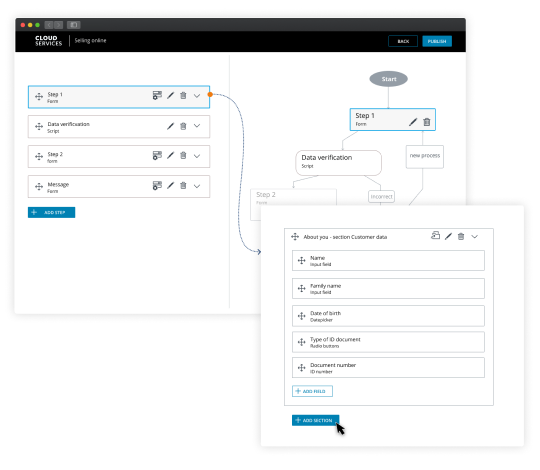 ---
Enable advanced user verification mechanisms
Thanks to the functional steps of the so-called "script", you can also enrich the process with such elements as sending SMS or authorization e-mail to the Customer, or verification of data with CEIDG/GUS/RDO/PESEL databases. The tool enables additional integration with REST API/SOAP services.
---
Use the automatic contract generator and electronic signature
Our tool allows you to create personalized documents that are necessary to finalize the service contract. Already in the online sales process, you can enable the automatic generation of the contract with the necessary attachments. Thanks to our mechanisms, you can conclude contracts online completely remotely.
---
Have full control over your sales processes with comprehensive analytical tools
Analyze the behavior of potential customers on the purchasing path, optimize it based on big data, get better results, and maximize profits.
Our system monitors user behavior: list of accepted and rejected calculations, number and stages of abandonments, including those due to validation or anti-fraud mechanisms. The collected data is presented in the form of charts. Based on reliable data you can react quickly and modify your sales path accordingly to increase its effectiveness. The system also allows you to generate reports summarizing the information obtained from the analysis.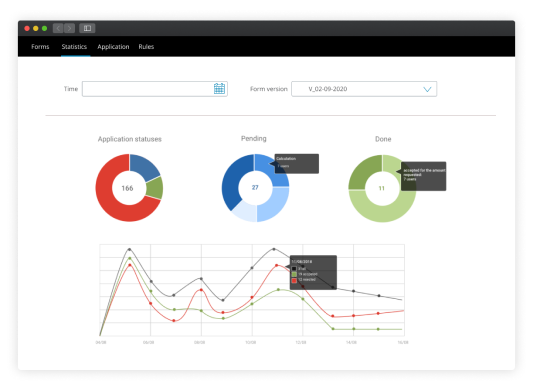 ---
Poznaj więcej naszych rozwiązań
Portal online
Design, create and launch a fully functional website - without the need to involve IT specialists. Use ready-made tools and run any number of websites tailored to your business needs.
more >
Self Service online
Reduce the number of inquiries to the support center and reduce the cost of handling interested parties by providing your customers with easy-to-use tools for changing account details, submitting applications, and complaints.
more >
Communication with Clients
Be closer to your customers and their needs. Automate two-way communication processes.
more >