---
Allow your employees to focus on sales instead of on ongoing customer service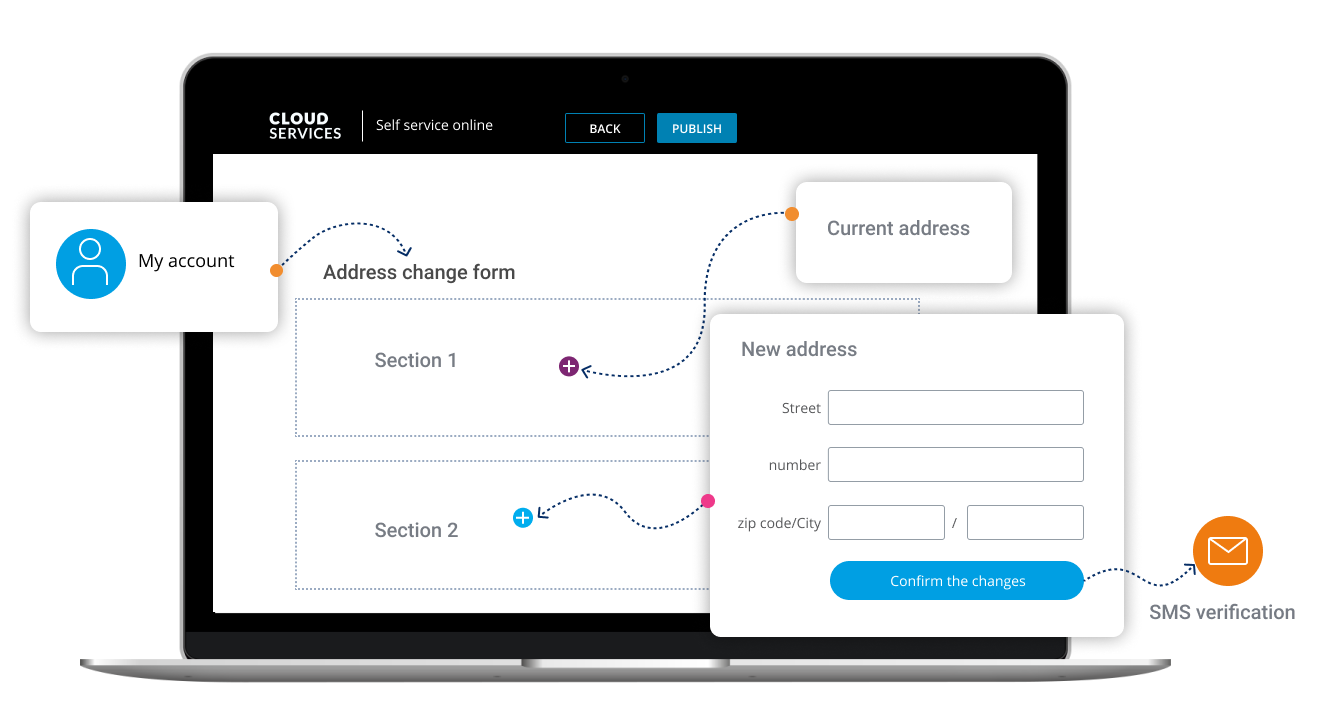 Our solution
---
Reduce customer service costs by launching online self-service processes
Run special forms that enable your customers to perform important but simple tasks themselves and thus relieve your customer service team.
You can do this using our wizard, which allows you to create multi-step processes of varying degrees of complexity. Building forms is very easy because you use the ready-made elements present in the wizard. It resembles building blocks - we select the components we need in a given situation, match them to each other and create a ready-made solution. The system ensures the logic of the transition between the next steps.
Each of them is fully adapted to the visual identification (CI) of your company, so that the newly created forms will be consistent with the existing communication.
The wizard is so simple and intuitive to use that you do not need any programming or graphic support. Your team will be able to create all necessary processes by themselves at any time. Thanks to the built-in Live View function it is possible to preview all introduced changes live.
Increase security with authorization solutions
In each of the self-service forms you create you can enable SMS or e-mail authorization.
By activating this service, you gain an additional security mechanism that prevents impersonating other people or committing other abuses.
How does it work?
While filling in the application (e.g. for changing the credit card limit), the customer receives an SMS or e-mail message containing a special verification code, which he has to rewrite in the appropriate field in the form. He has to meet this condition to go to the next stage in the process.
The message is sent only to the phone numbers or e-mail addresses registered in the system.
Self-servie online is a comprehensive solution that allows you to change, terminate, cancel or extend any banking or insurance product.
Allow your client, instead of via the hotline or during a conversation with the Advisor at the outlet, to handle most of the service matters by themselves via the Customer Account in the system.
This allows your employees to focus mainly on sales, instead of spending time on tasks that customers can successfully complete on their own.
Application examples, or what your customer can do with our tools:
change your personal and address data,
change your credit card limit,
report the sale of the car to the insurer, thanks to which there will be no renewal and the customer will receive a due refund,
report to the insurer the damage caused to the property,
have the insurance of the immovable property financed by the mortgage transferred
and much more.
---
Expand your operational capabilities through internal and external integrations
Our wizard allows for integration with other systems used in your organization and with external service providers.
We have equipped our tool with universal integration mechanisms. The extensive configurator (REST API), as it is referred to, allows for integration with any external service or internal systems - at any time of the process.
Thanks to such integration you can perform both very simple operations, such as downloading and saving customer data, and complex verification processes.
We also offer the development of custom integration, which will be 100% tailored to your needs and selected integration methods.
---
Discover the key features of our solution
Customer account
It is a place where you can find information about all products owned by a given customer together with assigned processes, which the customer can carry out independently. It can be either a notification of a change to a given product or a resignation, assignment or other action depending on the nature of the product.
Data management
You can carry out client authorizations, both within your internal base and after integration with central systems. You can also update your own personal, address and contact information and manage the process and marketing permissions that your customers will provide.
Verification mechanisms
As part of our solution, you can use internal and external verification mechanisms, both in the account access authorization process and in the service processes - those related to the customer's account and products.
Integrations
You have the ability to integrate SOAP/REST with any central or product system to retrieve customer or product data. You can also provide feedback to related systems.
Simple editing
The modular design of the process wizard makes it very easy to use and can be used by people without technical preparation. The people from the Customer Service Department can successfully create the necessary processes on their own and in this way improve their daily work. It is also possible to create global processes that will speed up and facilitate the performance of daily tasks - both for employees and customers. The editor has a built-in process preview that allows you to see proposed changes even before they are saved and published.
Flexibility
The system offers a number of ready-made solutions that allow you to automate most key processes. However, it is flexible enough to create new processes or adjust existing ones to suit the needs of a given organization. Each process can consist of any number of steps, and each step of any number of elements. They can be simple solutions chosen from a predefined list or extended groups of fields that can be saved by the user as their own.
Continuity of processes and feedback statuses
The online Self-service system allows the customer to report specific events via his or her Account. However, the implemented integrations allow to transfer this data to subsequent systems. What is important, the exchange of information does not have to end there. On the basis of actions performed by the customer, it is possible to initiate internal processes for employees and handle them also within the same process. Such a solution allows to have full control over the ongoing processes.
Learn more about our solutions
Banking product online
Use tools to automate online sales of banking products such as credits, personal accounts, credit or debit cards, and investment funds. Optimize costs, streamline processes and increase profits.
more >
Insurance online
Launch a modern platform for online insurance omni-channel sales. Create effective sales processes, automatically verify potential customers and gain full control over sales activities.
more >
Portal online
Design, create and launch a fully functional website - without the need to involve IT specialists. Use ready-made tools and run any number of websites tailored to your business needs.
more >