---
Information service for Saltus TUW
Case study of implementation of the corporate service of the Insurance Company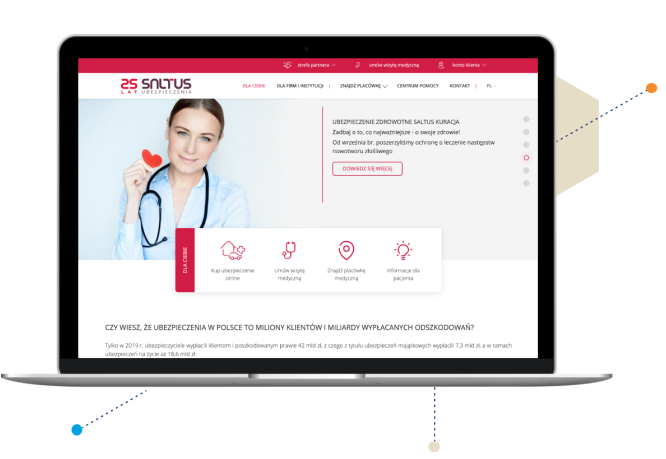 Objective and results
---
Launching a service presenting Saltus health insurance offer and other products previously known as Skok Ubezpieczenia. The implemented solution is to ensure a smooth transition of the user to sales and service paths, which are also part of the project implemented by Cloud Services.
Thanks to the redesigning of the previous version of the service, we have handled new needs of the Insurance Company related to rebranding. The implemented service supports both end customer and agent paths. Moreover, the delivered CMS Cloud Services solution enables flexible management of the content and structure of the service directly by the employees of the Insurance Company.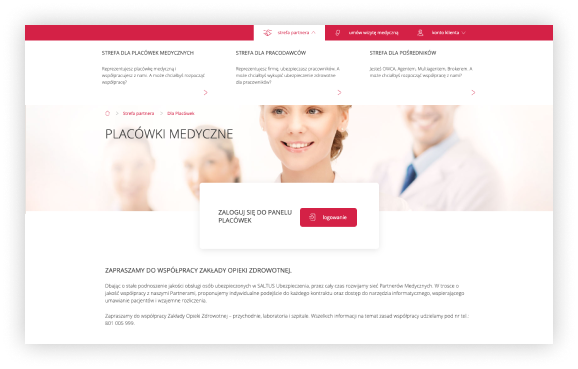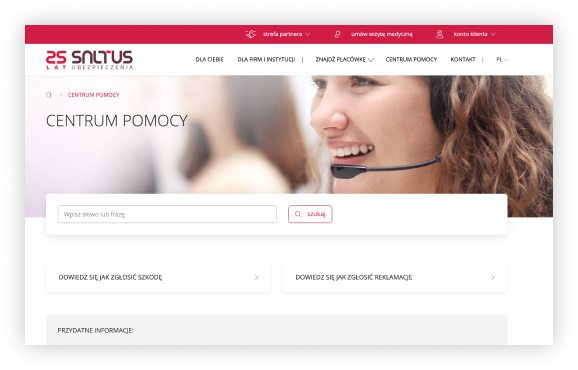 Implementation process
---
Analysis and design of information architecture
The project was preceded by an analysis of solutions available on the market and conceptual work on the service information architecture. We conducted a series of creative workshops, which aimed to define users and their needs related to the service. During the meetings we mapped paths for key types of users, which allowed us to answer the question of how to effectively construct a navigation menu. In the next step we prepared interactive mock-ups covering the most important subpages of the service.
Design of the visual side of the website
From the stage of UX mock-ups we have been creating the service in accordance with the philosophy of reusable CMS elements. This approach allows you to run new subpages with different content layout without the need for IT involvement. Eventually, all components necessary to build the information layer of the service were sharpened in accordance with the visual identification of the Insurance Company.
Installation and integration with related systems
After the completion of the project, the website was connected with sales paths and external services. Then we conducted detailed tests before final implementation.
Get to know our client's opinion
---
During the cooperation, Cloud Services specialists demonstrated their professionalism and knowledge of the insurance industry and services. We are very satisfied with the course of implementation and comprehensive maintenance service of the system. Creativity, punctuality, reliability, flexibility and professionalism of service during the project are the guarantee of reliable cooperation and make Blue Services a recommendable partner for IT solutions.
Iwona Kondracka, IT Director, Saltus TUW

---
Learn more about our implementations