Create an effective online sale and customer service
Publish product information, run short lead forms and connect complete sales paths.
Our solution
---
Build a functional website without programming and graphical support
Our CMS is built in such a way that you or your marketing and sales team do not need the support of an IT specialist and can create the next subpage or landing page you need at any time.
Working with the CMS resembles buildings from blocks. You choose matching elements from among ready-made components and arrange them into a whole corresponding to your current needs. The architecture of information depends only on you. You have full freedom and freedom in the selection of components.
CMS allows you to easily adjust the appearance of the new website to the current visual identity of the company, so that all newly created websites will give the impression of a larger whole.
---
Use a solution that combines the ease of use of the CMS with an attractive design
Our CMS has been equipped with a number of attractive components fulfilling various functions.
When creating a website you can choose from elements such as: photo box, list, bookmarks, download section and many others.
Create sales services tailored to mobile devices
The CMS has been designed in such a way that it can be used to create tailor-made solutions and to preserve the reception.
Currently, a growing percentage of Internet users use mobile devices. Mobile first is no longer a curiosity, it is a standard in practically all industries. This channel cannot be ignored also in the sales process or customer service. That is why our CMS enables quick and easy adjustment of the appearance and content of the service to devices of different sizes: from desktops, through laptops and tablets, to smartphones.
An important advantage of our solutions is the possibility to design different services, which will be displayed depending on the type of device used by the customer at the moment. For example: on mobile devices you can replace an extensive descriptive section with a clear infographics, which on smaller screens will be much more convenient to receive. You can decide on the presence of each of the components in each version of the service.
---
Use the live preview to design your service even better
We have equipped our CMS with a special Live View function, which makes editing the appearance much easier.
Each project can be saved as a 'sketch' or 'for review'. This function allows you to create in advance landing pages for upcoming advertising campaigns or information pages for new products coming on sale only after some time. It also facilitates teamwork on the content of the new website.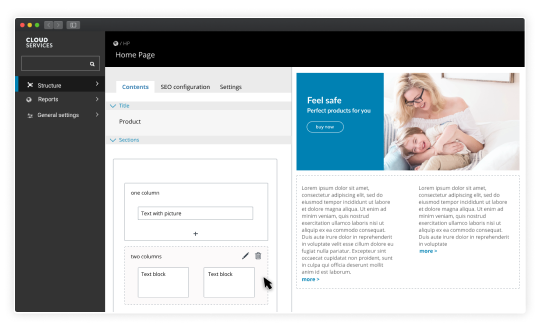 Learn the solution in practice
Learn more about our solutions
Self-service online
Reduce the number of inquiries to the support center and reduce the cost of handling interested parties by providing your customers with easy-to-use tools for changing account details, submitting applications and complaints.
more >
VAS Solutions
Increase revenue from your online channel with sales solutions that can be implemented in any industry. You can already easily deploy a system to sell tickets, insurance, banking products, and more.
more >
Portal online
Design, create and launch a fully functional website - without the need to involve IT specialists. Use ready-made tools and run any number of websites tailored to your business needs.
more >