---
Saltus TUW insurance sales platform
Case study of implementation of insurance sales and service platform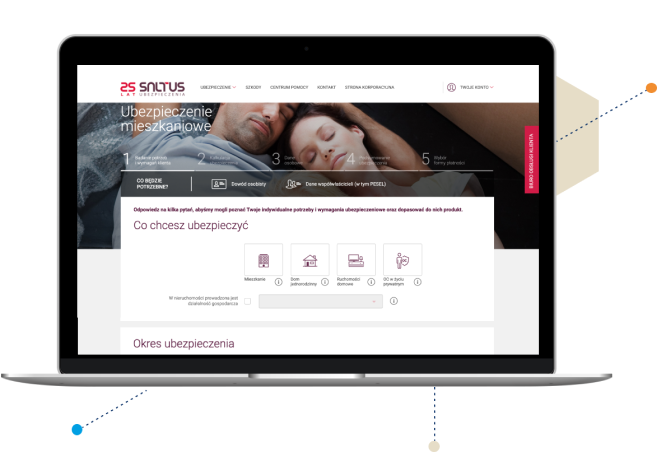 Objective and results
Launching of a sales platform enabling the end customer to purchase products in the online channel, as well as handling policies by insurance agents. The implemented solution is supposed to take into account such functionalities as: sales network management, commission settlements, support for agents in the sales process.
By redesigning the previous version of the sales system, adapting it to the latest trends and market requirements, we have implemented a modern sales platform. As part of the sales processes, stand-alone products are handled: real estate, tourism, NNW, health and motor insurance in a comparative model of three Companies.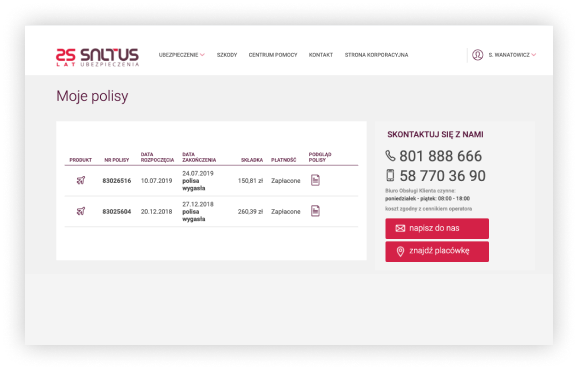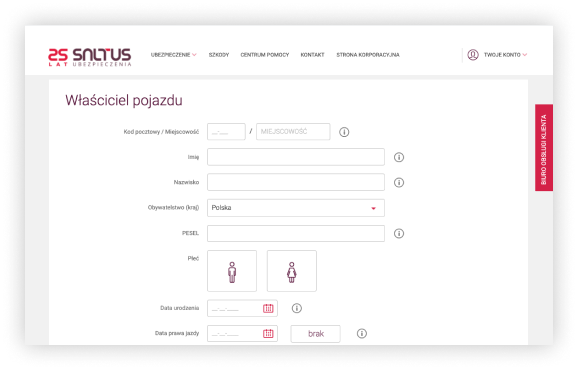 Implementation process
Analysis and conceptual work
The project was preceded by market research and analysis of solutions available on the market, on the basis of which we proposed high-level functional mock-ups of key functionalities, which we then translated into a graphic design of sales paths.
Adaptation and expansion of the platform
During four months, the definitions of subpage templates and key functionalities were implemented, and a separate team was carrying out the migration of the current version of the sales system to its latest version, which was extended with requirements from the analysis stage. As a result, all products and functionalities from the previous system were made available, improved and extended within all previously supported sales channels, i.e. in direct, Call Center and agencies.
Installation and integration with related systems
After the completion of the implementation and the detailed stage of testing, the platform was made available to the Society's communities. Additionally, the sales platform was also made available as a training version for the entire sales network. As a result, a dedicated platform adapted to the needs of Saltus TUW was analyzed, designed, developed, tested and implemented within about six months.
Get to know our customer's opinion
---
During the cooperation, Cloud Services specialists demonstrated their professionalism and knowledge of the insurance industry and services. We are very satisfied with the course of implementation and comprehensive maintenance service of the system. Creativity, punctuality, reliability, flexibility and professionalism of service during the project are the guarantee of reliable cooperation and make Cloud Services a recommendable partner for IT solutions.
Iwona Kondracka, IT Director, Saltus TUW

---
Learn more about our implementations