---
Create and launch a complete online insurance sales process - from the presentation of the offer, through selection of the scope of protection, to signing the contract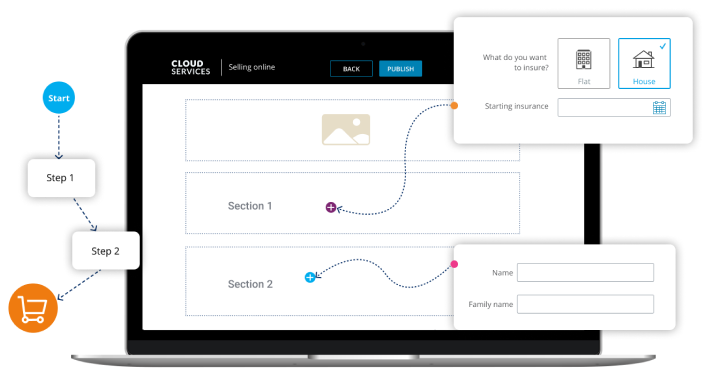 Our solution
---
Expand online insurance sales by implementing effective sales processes
Create your own sales paths that include automatic data acquisition or use ready-made solutions available within the wizard.
The tool allows you to build new, multi-step paths or modify existing ones to fit the target group and improve conversion. Using the wizard is simple and intuitive. It requires no technical knowledge and programming support. It allows each member of your team to create the necessary sales processes themselves at any time.
---
Using the Cloud Services wizard is simple and intuitive
No technical knowledge and programming support is required.
This allows each member of your team to create the necessary sales processes themselves at any time. The system generates forms, the appearance of which fully corresponds to the visual identity of your website, so that customers feel that they are an integral part of it.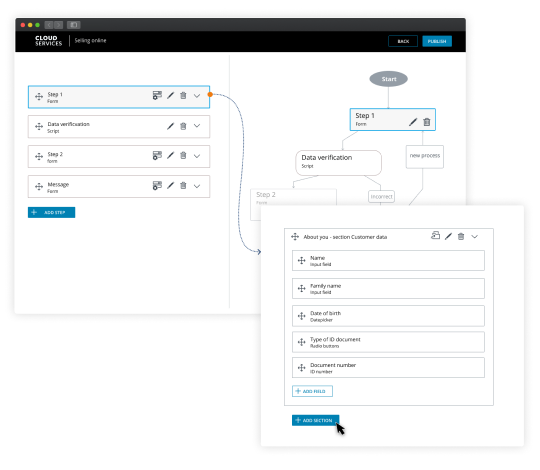 ---
Reduce the time of reaching the customer thanks to tools that enable you to design matching insurance products yourself
Create insurance products, manage their structure, risks and parities and define tariff rates resulting from data entered by the Customer.
Our tool allows you to build products consisting of many elements and levels, such as: package/variant, risk element, additional elements not related to risk, parameters of the elements. Each level can have different properties and business logic and the elements of the product can be interconnected. The terms and conditions of the offer and the rules of tarification can be easily dependent on the data coming from the sales process (given by the Customer). Thanks to our tools you will create products tailored to your customers' needs and profitable from the business point of view, you will reduce costs and significantly shorten the time of product implementation and reaching the customer.
---
Be always close to your customer with a reliable mobile application
Provide your current and future customers with constant access to the offered products and details of offers they have already used.
Mobile application is a modern and convenient way to communicate with customers. It allows for quick access to all information concerning purchased policies. The customer can enter his account at any time and find the information he was looking for.
An important function of the application is the possibility to use the Aztec code scanner located in vehicle registration certificates. It significantly reduces the time needed to calculate the motor insurance.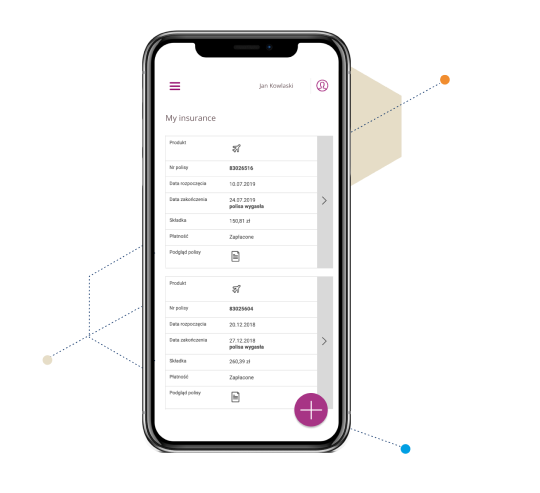 ---
Make it easy to manage your sales data using the intuitive administration panel
You can now monitor sales, manage products and the work of insurance agents from its place.
The administration panel allows you to manage the content visible on your sales page, including informational texts, static and dynamic documents (generated in response to data entered into the form by a potential customer), graphics and attachments. The tool also enables defining and managing processes, including: creation of product tariffs, pinning processes in selected places in the service structure, Quick preview of data visible in any step in the process, management of consents and statements. Using the administration panel you can also manage the sales network, including its structure (from simple flat to tree), User and Customer data, roles and access rights for the team and the logic of commission distribution to the sales network participants. The system allows you to: access to contracts and policies - together with post-sales processes, such as annexation, withdrawal, etc; preview of reports generated independently and imported; preview of premiums; comparison of commission calculations made by the system with imported commission settlements from companies; processing of calculations and posting of returns of premiums.
---
Have full control over your sales processes with comprehensive analytical tools
Analyze the behavior of potential customers on the purchasing path, optimize it based on big data, get better results and maximize profits.
Our system monitors user behavior in sales applications, processes the collected data and presents it in a clear and understandable form: number, stages and reasons for process abandonment; the number of rejections due to validation or anti-fraud mechanisms; list of accepted and rejected calculations.
The collected data is presented in the form of charts, which makes it legible and easy to interpret. Based on reliable data you can react quickly and modify your sales path accordingly to increase its effectiveness. The system also allows you to generate reports summarizing the information obtained from the analysis. Data can be exported to .pdf, .csv or .xls format.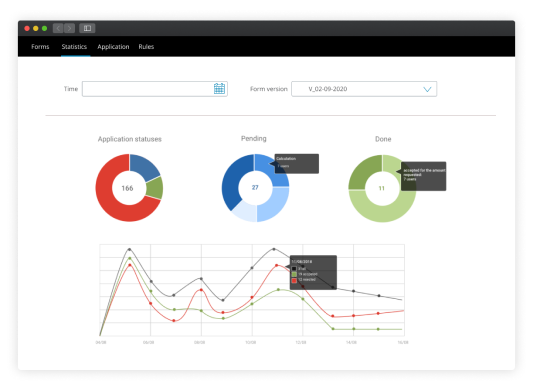 ---
Efficiently expand your product offer, thanks to convenient integration with external entities
Integrate e.g. with insurance companies and present a wide, comprehensive offer to your potential customers, thus increasing your chances for sales growth.
At any time you can take advantage of many ready-made integrations with tariff and policy systems of Insurance Companies and thus significantly reduce integration costs and time needed for their implementation. The advantage of the solution is also the fact that all maintenance costs are on the Cloud Services side, as is the obligation to update the integration. Therefore, even if the chosen product does not bring the expected profits at a given moment, further maintenance does not generate any additional costs. The system currently allows you to take advantage of ready-made integration with the offer: Allianz, AXA, Benefia, Compensa, Ergo Hestia, MTU, Generali, Proama, Interrisk, Link4, PZU, TUW TUZ, Uniqa, Warta, HDI, Wiener.
---
Improve the effectiveness of your salespeople by providing them with useful tools
Streamline the work of your agents with a special advisor application that will allow them to be in constant contact with their clients and expand their sales opportunities.
From now on, insurance sales do not have to take place only at the outlet, when the client comes to you with a specific need. You can expand your capabilities and contact potential clients no matter where they are. The year 2020 showed perfectly well how important is skillful distance selling and the possibility of finalizing transactions remotely. Selected functionalities of the advisor's application: advisor authorization; a schedule of tasks to be performed, both automated (such as policy renewal) or created by the advisor or his superior; access to products and related documents, such as the policy, GTC, regulations, certificate, etc; QR/Aztec code decoder; Customer document scanner; discussion of insurance sales processes, changes in data, waivers and resignations, and loss reporting and their transfer to the insurance company's liquidation system; automatic data synchronization.
---
Learn the solution in practice
---
Learn more about our solutions
Self-service online
Reduce the number of inquiries to the support center and reduce the cost of handling interested parties by providing your customers with easy-to-use tools for changing account details, submitting applications and complaints.
more >
VAS Solutions
Increase revenue from your online channel with sales solutions that can be implemented in any industry. You can already easily deploy a system to sell tickets, insurance, banking products, and more.
more >
Portal online
Design, create and launch a fully functional website - without the need to involve IT specialists. Use ready-made tools and run any number of websites tailored to your business needs.
more >