---
Credit online for Ikano Bank, branch in Poland.
Case study of the implementation of the online credit process within the framework of e-commerce partner of the Bank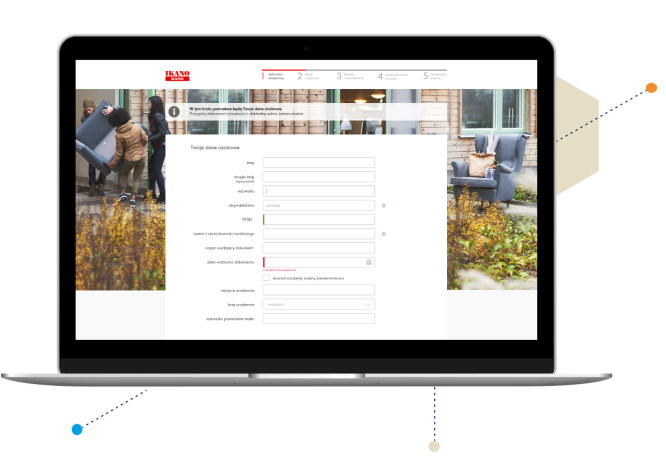 Objective and results
Launching a complete online loan motion for the purchase of products in the Ikea store on the Internet channel - from the moment the application is launched to the signing of the loan agreement.
The implemented solution enables to go through the whole purchase process in the online channel, from the choice of payment in installments in the store to the positive decision on the application and granting credit. The system analyses the data entered by the customer and is integrated with the bank's decision engine. After accepting the offer, the system automatically generates contract documents and verifies the customer by a verification transfer. Thanks to the verification transfer mechanism the risk of fraud was reduced. The sales application enabled the Bank to reach new Customers in the online channel and streamline the process.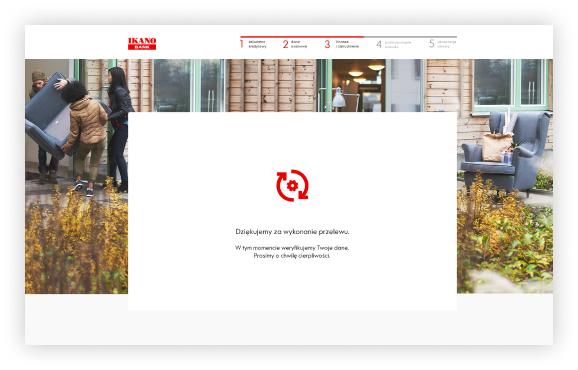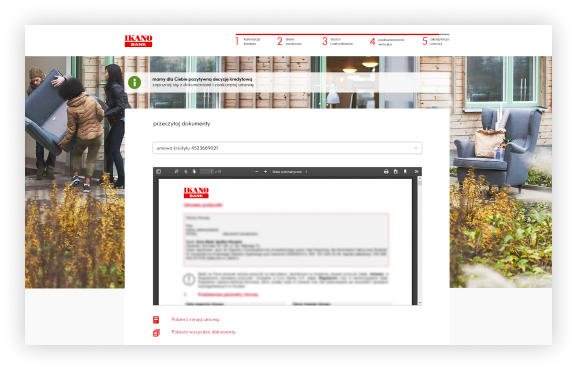 Implementation process
Planning and conceptual work
In the first stage, the Bank developed a process diagram in accordance with the rules of the Bank and the requirements of the security department. During a joint creative workshop we defined the critical points on the user's path, which needed to be taken care of at the stage of UX conceptual work. Then we created an interactive mock-up presenting the optimal process of applying for credit taking into account the Bank's requirements.
Visual design of the process
On the basis of the mock-ups, graphic components of the form necessary to build a visual layer of the credit application were created. All components have been sharpened in accordance with the visual identification of the Bank.
Integration with the Bank's environment
Based on the prepared process, we defined the necessary integrations with the Bank's systems. The Bank provided appropriate interfaces of these systems, which were then connected to the credit application process.
Building and launching the process
The Cloud Services wizard module enabled the configuration of a complete, multi-step process with the use of verification and validation, including additional solutions based on Blue Media Group services, such as: SMS authorization and verification transfer. Each element of the process can be modified from the administration panel.
Get to know our client's opinion
---
Cloud Services not only provided us with professional support in the IT area, but also showed a great knowledge and understanding of the requirements related to banking products, in our case loans, which greatly facilitated the smooth implementation of the new solution.
Jerzy Biskup, Branch Manager & Head of Business Partners

---
Learn more about our implementations